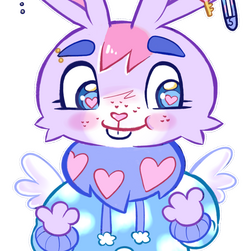 Sashimifeast!
if you like my art, consider following me on social media!
price$
---
regular
pixel icon [ USD$26 ]

teeny [ USD$36 ]

chibi [ USD$65 ]

full body [ USD$85 ]

experimental scene illustration [ USD$129 ]

reference sheet [ starts at USD$107 ]

customs [starts at USD$50 ]
add-ons
Painted style [ +USD$50 ]

Flat full body (no shading) [ -USD$10 ]

Add character [+ %70 initial price]

semi-detailed backgrounds [ starts 16USD$ ]

complex backgrounds [ starts at USD$31 ]
---
examples
---
Pixel icon [ USD$26 ]
+ Animation [ USD$15 ]
(pixel only 200x200 px)
---
Teeny [ USD$36]
transparent png, experimental
---
Chibi [ USD$65 ]
comes shaded + transparent png
---
Full body [ USD$85 ]
comes shaded + transparent and/or simple bg
---
Backgrounds
(price depends on complexity)
---
Experimental Scene Illustration [ USD$129 ]
(price depends on complexity)MORE EXAMPLES SOON !
---
Reference sheet [ USD$107 ]
(depends on complexity)
---
Customs [ USD$50 ]
(depends on complexity)
---
BY COMMISSIONING ME YOU AGREE AND ACCEPT THE FOLLOWING TERMS OF SERVICE.
my methods for payment are through paypal or ko-fi.

your finished piece may be used to advertise my commissions at some point. let me know if you don't want this to happen.

i do draw Nsfw and humans. i don't draw gore/pedo/zoo/hate art of any kind.

always bring some reference with you/be short and specific about designs. get some pictures for refs if you do not have a drawing/ref of your oc.

you can always request poses, clothing, items, etc. however i work with artistic liberty best.

pieces can take me a minimum of 1-2 days and a maximum of 3 months to finish. bigger pieces may take longer.

process on the piece is shown twice. you may requests changes these two times only. (when sketched and inked)

updates: i'll contact you for them. please don't call me/pressure me/contact my friends/spam my social media/; i'll read your message and respond as soon as possible. i always finish my pieces and in case I can't for any reason i will refund you. don't worry, your money is safe.

i won't refund if i already have started a piece.

you may not redistribute/sell/steal/trace/copy/make any profit off my art. you may use the art for personal use freely. if you wish to sell anything with my art on it, you may ask me first, commercial rights can be discussed.

always credit me. this is MANDATORY.